Hi everyone. you all know that Aundrea and I love our Pre-Paid Legal business. We love the protection the services offer and the financial freedom the business offers. I just wanted to let you know about something big that is about to happen with our company. This video is going to go over what we do. Please check this out, Aundrea and I just want your opinions on our services and business. Please record this if you will be unable to watch it live. This is an email we sent out to our team and those asking us for information about our business. I would be remiss if I did not share this will everyone I know and love. Thank you for your time.
I appreciate you all…Rammygrams will continue as usual tomorrow. Please feel free to send me any funnies you would like to see as rammygrams.

Pre-Paid Legal just did another press release today. You can read it CLICKING HERE. Pick up the USA Today on Friday as well. We'll have a big ad posted in there.
No other network marketing in history has ever put on a television program like this before. WHY? Because they didn't have the great product we have, nor the backing and credibility behind the product. Reading the press release, you'll see the class of individuals that will be on this program promoting the fact that everyone should have a Pre-Paid Legal plan.
Think about this, the President of the US Chamber of Commerce is going on national TV, and letting everyone know they should come see you about getting a badly needed legal service plan.
Two questions: Because we all live in an entertainment society, don't we validate something as soon as we see it on TV? Is the President/CEO of the US Chamber of Commerce enough validation of our company? How about the passed President of the American Bar Association, President/CEO of the National Black Chamber of Commerce, and four former State Attorney Generals?
You can preview the documentary here.
This is going to be what the Gecko was to Geico, the Duck to AFLAC, HMO's to Health Insurance . . . . Â you get the picture.
Watch the program, then go back over to my web site at http://buildlastingsuccessoffice.com/direct.php?id=123456&password=password, and let's discuss how you can be put in front a wave that will increase our business twenty fold within 3-5 years!
Success is Voluntary,
Jason Rammelsberg
800-216-2731
http://www.SecureTimeFreedom.com
Submitted by: He who wishes to remain anonymous
Rammy Note: Could not confirm if it is real but it is definitely interesting. Also, this could be offensive to some as it contains backside nudity, view at your own risk.
Submitted by: Taffy Eager
Rammy Note: This is true as seen on Snopes.com. Here is what was said by the mother as to how this all happened.
" It's real. Happened July 11th in Minneapolis at a Chinese buffet restaurant. He was climbing into the booth and fell while holding his fork in his hand. When the waiter picked him up from under the table the fork was through his nose. There was only a little blood because the fork tines missed all of the cartilage in his nose (Thank God). The one picture is from the ER and the other picture is two days later at home. The ER doctor and ENT doctor we saw the following day said that they had never seen this before and that we were pretty lucky that the fork went up and out through his nose. We saved the fork and this picture for him to see when he gets older. We emailed the pics to our family, coworkers and friends and now they are all over the internet. Live and learn I guess."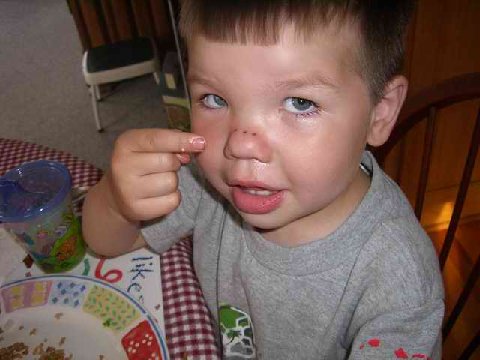 Submitted by: Bill Poulter
Laugh…..go ahead, the news commentators' comments & laughter make this funny