Submitted by: Doug Stewart
New Nail Gun, made by DeWALT
It can drive a 16-D nail through a 2 X 4 at 200 yards.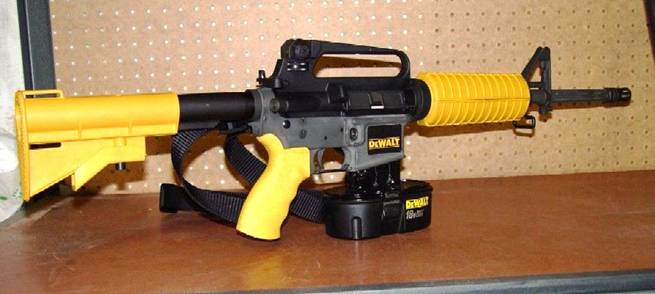 This makes construction a breeze, you can sit in your lawn chair and build a fence.  Just get your wife to hold the fence boards in place while you sit back, relax with a cold drink and when she has the board in the right place, just fire away.
With the hundred round magazine, you can build the fence with a minimum of reloading.  After a day of fence building with the new DeWALT Rapid fire nail gun, the wife will not ask you to build or fix anything else, probably, ever again.
Rammy note: Although I am positive this is false, it is funny none the less.  Also, the Houston Herald Newspaper is not in Houston, TX it is in Houston, MO.
---
Submitted by: Doug Stevens
THE HOUSTON HERALD NEWSPAPER IN HOUSTON , TEXAS
MARCH 5th, 2009
Last Thursday Night Around Midnight, A Woman From Houston , Texas Was Arrested, Jailed, And Charged With Manslaughter For Shooting A Man 6 Times In The Back As He Was Running Away With Her Purse.
The Following Monday Morning, The Woman Was Called In Front Of The Arraignment Judge, Sworn In, And Asked To Explain Her Actions.
The Woman Replied,"I Was Standing At The Corner Bus Stop For About 15 Minutes, Waiting For The Bus To Take Me Home After Work. I Am A Waitress At A Local Cafe… I Was There Alone,  So I Had My Right Hand On My Pistol, That Was In My Purse, That Was Hung Over My Left Shoulder.
All Of A Sudden I Was Being Spun Around Hard To My Left.
As I Caught My Balance, I Saw A Man Running Away From Me With My Purse.
I Looked Down At My Right Hand And I Saw That My Fingers Were Wrapped Tightly Around My Pistol.
The Next Thing I Remember Is Saying Out Loud, ' No Way Punk! Your Not Stealing My Pay Check And Tips.'
I Raised My Right Hand, Pointed My Pistol At The Man Running Away From Me With My Purse,
And Squeezed The Trigger Of My Pistol 6 Times!"
When Asked By The Arraignment Judge, "Why Did You Shoot The Man 6 Times?"
The Woman Replied Under Oath,"Because, When I Pulled The Trigger Of My Pistol The 7th Time, It Only Went Click."
The Woman Was Acquitted Of All Charges.  And She Was Back At Work, At The Cafe, The Next Day!
Submitted by: Kirk Chester and Aundrea Rammelsberg
What does one TRILLION dollars look like?
All this talk about "stimulus packages" and "bailouts"…
A billion dollars…
A hundred billion dollars…
Eight hundred billion dollars…
What does that look like? I mean, these numbers are tossed around like doggie treats, so here is a little something to help you get a sense of what exactly a trillion dollars looks like.
We'll start with a $100 dollar bill. Currently the largest U.S. denomination in general circulation. Most everyone has seen them, slightly fewer have owned them. Guaranteed to make friends wherever they go.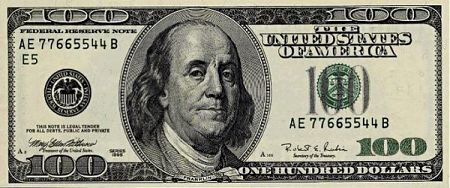 A packet of one hundred $100 bills is less than 1/2″ thick and contains $10,000. Fits in your pocket easily.

Believe it or not, this next little pile is $1 million dollars (100 packets of $10,000). You could stuff that into a briefcase and carry it around comfortably.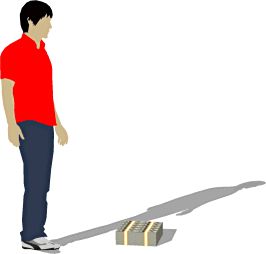 While a measly $1 million looked a little unimpressive, $100 million is a little more respectable. It fits neatly on a standard pallet…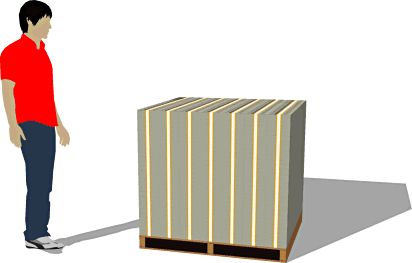 And $1 BILLION dollars… now we're really getting somewhere…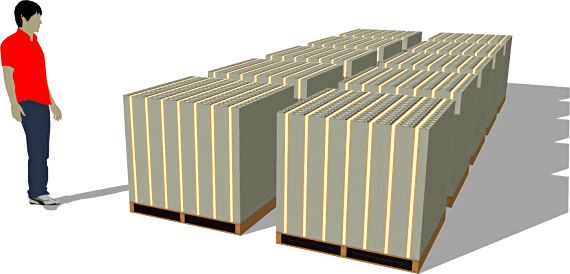 Next we'll look at ONE TRILLION dollars. This is that number we've been hearing about so much. What is a trillion dollars? Well, it's a million million. It's a thousand billion. It's a one followed by 12 zeros. that's this many 0 0 0 0 0 0 0 0 0 0 0 0.
You ready for this?
It's pretty surprising.
And Now Ladies and gentlemen… I give you $1 trillion dollars…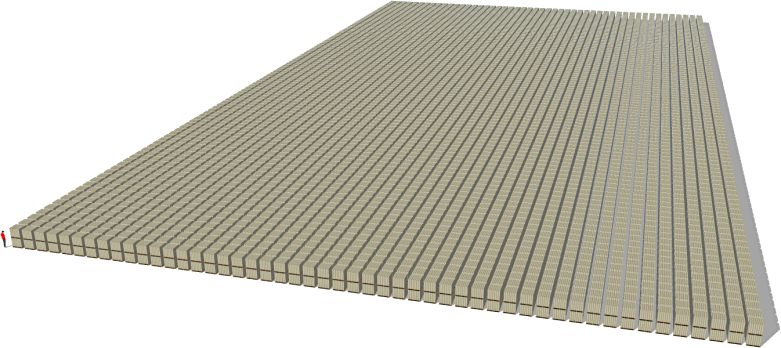 (And notice those pallets are double stacked.)
So the next time you hear someone toss around the phrase "trillion dollars"… that's what they're talking about.