Submitted by: Andy Zaharias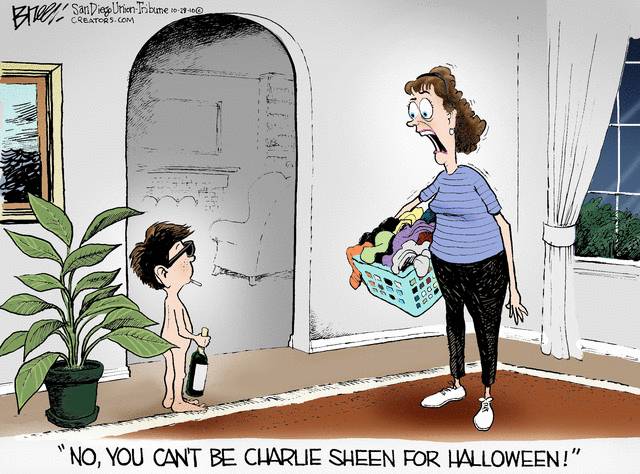 Submitted by: Doug Stewart
New Nail Gun, made by DeWALT
It can drive a 16-D nail through a 2 X 4 at 200 yards.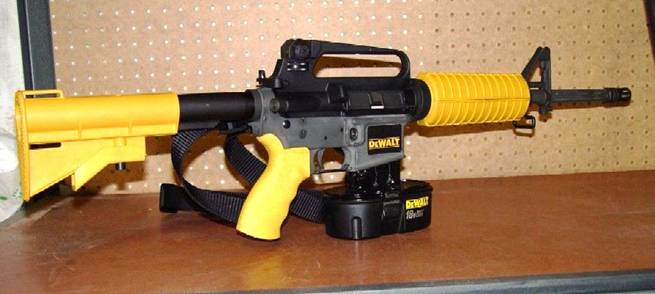 This makes construction a breeze, you can sit in your lawn chair and build a fence.  Just get your wife to hold the fence boards in place while you sit back, relax with a cold drink and when she has the board in the right place, just fire away.
With the hundred round magazine, you can build the fence with a minimum of reloading.  After a day of fence building with the new DeWALT Rapid fire nail gun, the wife will not ask you to build or fix anything else, probably, ever again.
Submitted by: Kelly Orr
Each December, I vowed to make Christmas a calm and peaceful experience. I had cut back on nonessential obligations — extensive card writing, endless baking, decorating, and even overspending. Yet still, I found myself exhausted, unable to appreciate the precious family moments, and of course, the true meaning of Christmas.
My son, Nicholas, was in kindergarten that year. It was an exciting season for a six-year-old. For weeks, he'd been memorizing songs for his school's "Winter Pageant."
I didn't have the heart to tell him I'd be working the night of the production. Unwilling to miss his shining moment, I spoke with his teacher. She assured me there'd be a dress rehearsal the morning of the presentation. All parents unable to attend that evening were welcome to come then. Fortunately, Nicholas seemed happy with the compromise.
So, the morning of the dress rehearsal, I filed in ten minutes early, found a spot on the cafeteria floor and sat down. Around the room, I saw several other parents quietly scampering to their seats. As I waited, the students were led into the room. Each class, accompanied by their teacher, sat cross-legged on the floor. Then, each group, one by one, rose to perform their song.
Because the public school system had long stopped referring to the holiday as Christmas," I didn't expect anything other than fun, commercial entertainment – songs of reindeer, Santa Claus, snowflakes and good cheer. So, when my son's class rose to sing, "Christmas Love," I was slightly taken aback by its bold title.
Nicholas was aglow, as were all of his classmates, adorned in fuzzy mittens, red sweaters, and bright snowcaps upon their heads. Those in the front row-center stage — held up large letters, one by one, to spell out the title of the song.  As the class would sing "C is for Christmas," a child would hold up the letter C. Then, "H is for Happy," and on and on, until each child holding up his portion had presented the complete message, "Christmas Love."
The performance was going smoothly, until suddenly, we noticed her; a small, quiet, girl in the front row holding the letter "M" upside down — totally unaware her letter "M" appeared as a "W."
The audience of 1st through 6th graders snickered at this little one's mistake. But she had no idea they were laughing at her, so she stood tall, proudly holding her "W.." Although many teachers tried to shush the children, the laughter continued until the last letter was raised, and we all saw it together. A hush came over the audience and eyes began to widen. In that instant, we understood the reason we were there, why we celebrated the holiday in the first place, why even in the chaos, there was a purpose for our festivities.
For when the last letter was held high, the message read loud and clear:
"C H R I S T W A S L O V E"
And, I believe, He still is. Amazed in His presence…Humbled by His love. May each of you have a Merry Christmas as you reflect on His Amazing Love for us…Have a blessed day!
When you are DOWN to nothing…. God is UP to something! Faith SEES the invisible, BELIEVES the incredible and RECEIVES the impossible!
"Every obstacle presents an opportunity to improve our condition"
Submitted by: He who wishes to remain anonymous
Rammy Note: Checked on Snopes and the origin of this story is Undertermined
As a joke, my brother Jay used to hang a pair of panty hose over his fireplace before Christmas.  He said all he wanted was for Santa to fill them.
What they say about Santa checking the list twice must be true because every Christmas morning, although Jay's kids' stockings overflowed, his poor pantyhose hung sadly empty.
One year I decided to make his dream come true.  I put on sunglasses and went in search of an inflatable love doll.  They don't sell those things at Wal-Mart.  I had to go to an adult bookstore downtown.
If you've never been in an X-rated store, don't go.  you'll only confuse yourself.  I was there an hour saying things like, 'What does this do?' 'You're kidding me!' 'Who would buy that?' Finally, I made it to the inflatable doll section.
I wanted to buy a standard, uncomplicated doll that could also substitute as a passenger in my truck so I could use the car pool lane during rush hour.
Finding what I wanted was difficult.  'Love Dolls' come in many different models.  The top of the line, according to the side of the box, could do things I'd only seen in a book on animal husbandry.  I settled for 'Lovable Louise.' She was at the bottom of the price scale.
To call Louise a 'doll' took a huge leap of imagination.
On Christmas Eve and with the help of an old bicycle pump, Louise came to life.
My sister-in-law was in on the plan and let me in during the wee morning hours.  Long after Santa had come and gone, I filled the dangling pantyhose with Louise's pliant legs and bottom.  I also ate some cookies and drank what remained of a glass of milk on a nearby tray.  I went home, and giggled for a couple of hours.
The next morning my brother called to say that Santa had been to his house and left a present that had made him VERY happy, but had left the dog confused.  She would bark, start to walk away, then come back and bark some more.
We all agreed that Louise should remain in her pantyhose so the rest of the family could admire her when they came over for the traditional Christmas dinner.
My grandmother noticed Louise the moment she walked in the door.  'What the hell is that?' she asked.
My brother quickly explained, 'It's a doll.'
'Who would play with something like that?' Granny snapped.
I kept my mouth shut.
'Where are her clothes?' Granny continued.
'Boy, that turkey sure smells nice, Gran,' Jay said, to steer her into the dining room.
But Granny was relentless.  'Why doesn't she have any teeth?'
Again, I could have answered, but why would I? It was Christmas and no one wanted to ride in the back of the ambulance saying, 'Hang on Granny, hang on!'
My grandfather, a delightful old man with poor eyesight, sidled up to me and said, ' Hey, who's the naked gal by the fireplace?' I told him she was Jay's friend.
A few minutes later I noticed Grandpa by the mantel, talking to Louise.  Not just talking, but actually flirting.  It was then that we realized this might be Grandpa's last Christmas at home.
The dinner went well.  We made the usual small talk about who had died, who was dying, and who should be killed, when suddenly Louise made a noise like my father in the bathroom in the morning.  Then she lurched from the mantel, flew around the room twice, and fell in a heap in front of the sofa.  The cat screamed.  I passed cranberry sauce through my nose, and Grandpa ran across the room, fell to his knees, and began administering mouth-to-mouth resuscitation.
My brother fell back over his chair and wet his pants.
Granny threw down her napkin, stomped out of the room, and sat in the car.
It was indeed a Christmas to treasure and remember.
Later in my brother's garage, we conducted a thorough examination to decide the cause of Louise's collapse.  We discovered that Louise had suffered from a hot ember to the back of her right thigh.
Fortunately, thanks to a wonder drug called duct tape, we restored her to perfect health.
I can't wait until next Christmas.